Extraction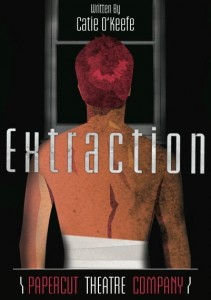 By Catie O'Keefe
Etcetera Theatre
16th – 21st March 2010
"Extraction" – to have something taken away or removed. Like your everyday boring life or your dreams of becoming a painter. Your kidney? It's Nizwar's desire to help people which leads to his strange, dangerous, and very secretive career. Yet, in doing so, what has he extracted from his own life?
Dark and witty, Extraction is the latest from acclaimed playwright Catie O'Keefe.
Check out our production photos.
Performed by Nicola Biden, Imran Mirza, Emily O'Connor, Kate Richard and Matthew Schmolle
Directed by Melissa Dunne