I Still Get Excited When I See A Ladybird
One workplace. One uniform. Seven people thrown together.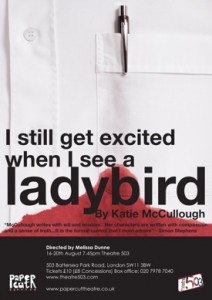 by Katie McCullough
Theatre 503
16th – 20th August 2011
Whilst trying to remain optimistic in the face of the daily grind, seven employees are forced to face their own reality in the company of others. Out of rules, order and return to work forms comes a world of hopes, dreams, desperation and fear.
Papercut Theatre presented the debut feature length play by emerging playwright Katie McCullough at the award winning Theatre503 from 16th till 20th August 2011.
Check out our production photos.
"McCullough writes with wit and wisdom. She has a rhythmic ear and a sense of tenderness and wit. She masters the dramatic monologue with some control, avoiding inert exposition… Her characters are written with compassion and a sense of truth. There is openness to directorial intervention that is rare in English playwriting. But it is the formal control that I most admire. It is a considerable achievement."
– Simon Stephens
Read Dan Rebellato's Review on Spilled Ink.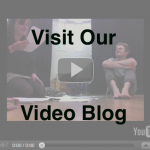 Directed by Melissa Dunne
Produced by Louise Malin
Stage Manager: Nikki Gooch
Set & Costume Designer: Natalie Moggridge
Sound Designer: Jon McLeod
Lighting Designer: Dale Driscoll
Cast: Samantha Béart, Jayne Edwards, John Rayment, Zimmy Ryan, Matthew Schmolle, Christopher Tester and Joseph Wilkins.
After the performance on Thursday 18th, academic and playwright Dan Rebellato hosted a Post Show Q&A with Melissa Dunne and Katie McCullough.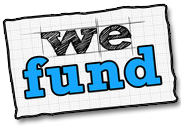 This production was supported through WeFund.  We would like to thank the following donors who helped make this project possible:
Joanna Scott, E. Rozanski, Suzanne Goldberg, Helen Thornber, Phil Bowman, Carly Woodall, Ben Blaine, Maryanna Ryan, Jeanette Trigg, Sal Rowberry, Chris D, Language Laid Bare Productions, Shenagh Govan, Georgina Burns, Dan Rebellato, Deva Palmier, Meghan Sharer, Afsaneh Gray, Adam Lannon, Chris Blaine, Sally Woodcock, David Thomson, Linda Jonas, Jared Kelly, Gerry Hayes, Sri Sritharan, Bev McCullough, Keith Malin, Michael Troughton, Don Cotter, Box Of Tricks, Schmolle Family, Neil Fox, Stanley Walton, Boudreau Freret.