Just To Get Married
by Cicely Hamilton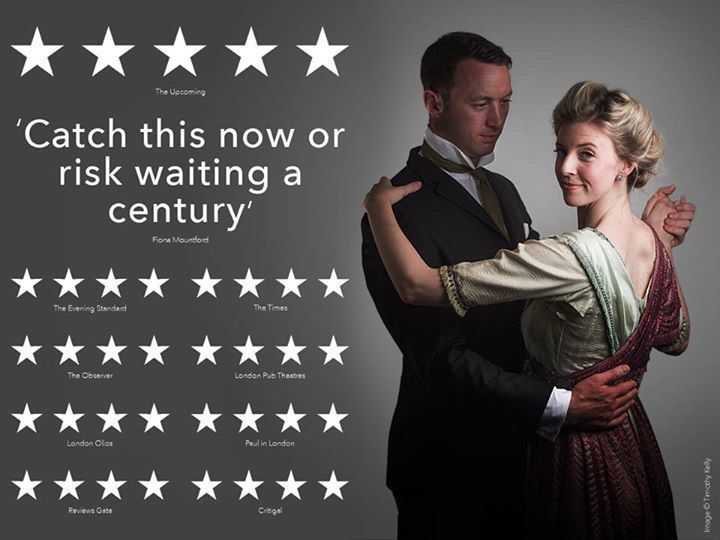 Finborough Theatre
Tuesday, 25 July – Saturday, 19 August 2017

The first London production in over 100 years
"It takes a confirmed spinster to be as sentimental as you are. What's to happen to me if I don't marry – what's to be the end of me?"
Approaching her 30th birthday in early 20th Century England, the clever and poor Georgiana Vicary is waiting for the handsome but shy Adam Lankester to propose to her. 

Her friends expect her to get married, her adoptive parents expect it and more importantly, she expects it of herself – but will her conscience allow it?
From a time when marriage was a socio-economic – rather than just a romantic – decision, Just to Get Married asks how we can have a marriage of equals when the genders are unequal.
Written by actress, journalist, playwright and suffragette Cicely Hamilton, and first produced at the Little Theatre in London in 1910, Just to Get Married was last produced in the UK at Birmingham Rep in 1918, and is directed by Melissa Dunne, Artistic Director of Papercut Theatre.
Presented by Papercut Theatre in association with Neil McPherson for the Finborough Theatre.
Playwright Cicely Hamilton (1872-1952) co-founded the Women Writers' Suffrage League and supplied the lyrics for The March of the Women, the anthem of Mrs Pankhurst's Women's Social and Political Union. Known for her novel and play Diana of Dobson's (1908), revived at the Orange Tree Theatre, Richmond, in 2007, her polemic Marriage as a Trade (1909), and her play How The Vote Was Won (rediscovered at the Finborough Theatre in 2003), Hamilton also wrote A Pageant of Great Women, a highly successful women's suffrage play based on the ideas of her friend, the theatre director Edith Craig. During the First World War, Hamilton joined the army as an auxiliary nurse. After the war, she worked extensively as a freelance journalist writing about issues such as birth control.
"This may be a delightful romp, but it's also an insightful social history of pleasing substance." Time Out
"An evening that combines erudite social commentary with comic pleasure. Unmissable." The Times
"A forgotten gem of early 20th century feminist literature. The wit and economy of Hamilton's script…is revelatory." The Sunday Telegraph
"But even though Hamilton was capable of writing plays of this quality, you'll still find any number of Shaw's secondary works ahead in the queue for revival. One rule for the men and another for women, as usual." Alfred Hickling, The Guardian
---
About us
New plays are important. Creating them is important. This is why we support new writers with a view to developing them as artists rather than expecting them to deliver a product. We are committed to enhancing and developing the process by which plays are created, directed and produced. We actively interrogate the writer/director relationship and value work throughout the entire creative process.
In the Press
On Just to Get Married – "Staged with wit and efficiency by Melissa Dunne, 'Married' ultimately chooses to have its wedding cake and spit it out, too."
The New York Times
Woman's Hour – Listen to Phyllida Lloyd and Melissa Dunne talk gender blind casting
BBC Radio 4
The Mundane Illuminated – Interview with Papercut Artistic Director Melissa Dunne
Snipe
"…XY falls within this long tradition of original, challenging new plays."
A Younger Theatre
"A clever production idea…kept the audience involved and interested throughout."
★★★★ One Stop Arts