Cut Off
Tristan Bates Theatre                                            Theatre503
7th – 11th December 2010                                   15th – 17th September 2010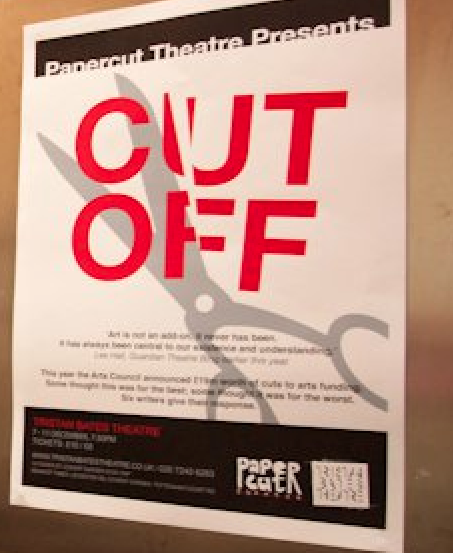 "Art is not an add-on, it never had been. It has always been central to our existence and understanding."  Lee Hall, Guardian Theatre Blog 2010
In 2010 an announcement was made to cut £19m worth of funding to the arts. Some people thought this was for the best; some thought it was for the worst. Six writers give their response.
Check out our production photos.
Press
Two-fingers to Culture Secretary Jeremy Hunt | The Tristan Bates Blog
If You Have Time to Read This … | The Guardian Theatre Blog
Plays by Ben Blaine (BAFTA Short-Listed filmmaker), Peter Cant, Sarah Grochala (Winner of the Amnesty International Protect The Human Playwriting Competition), Katie McCullough, Heather O'Shea and Rebecca Walker (Winner of BBC Writersroom Five Days in May Competition).
Directed by Melissa Dunne, Antonio Ferrara, Abigail Graham, Jamie Harper and Maja Milatovic-Ovadia
Curated by Melissa Dunne
Produced by Nicola Biden